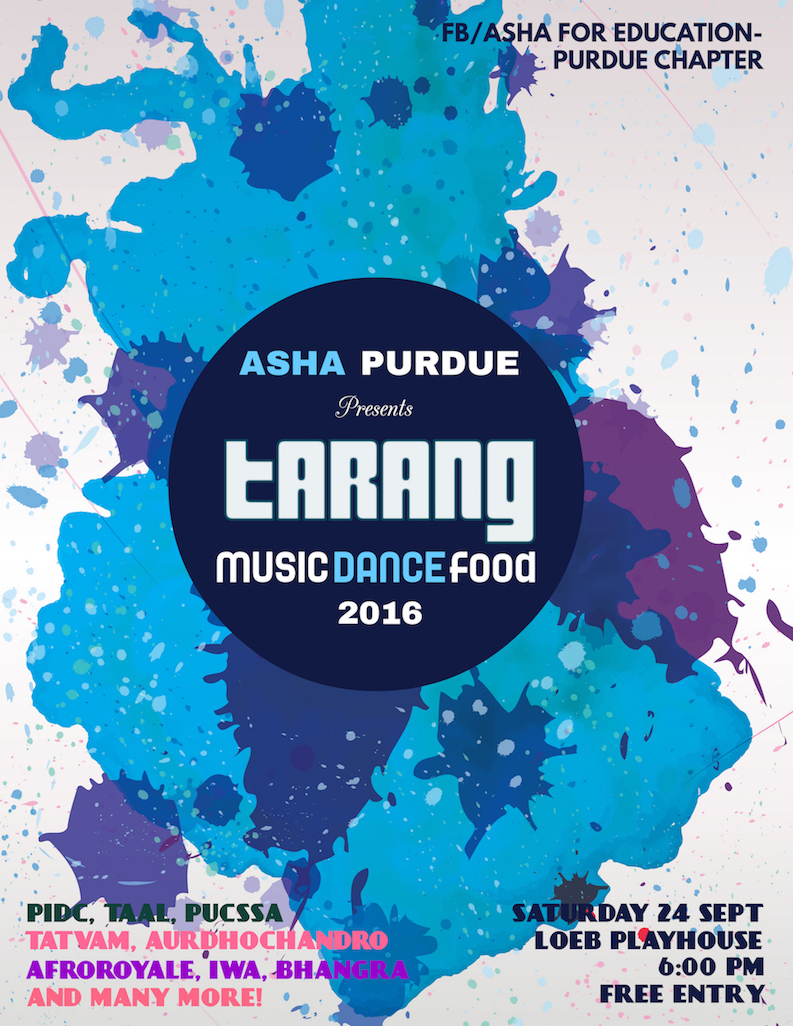 Asha for Education- Purdue invites Purdue and greater Lafayette community to one of the most popular multicultural event on campus- Tarang 2016. This year will be 5th year for Tarang at Purdue and it also marks 25th year of Asha for Education. So come join us in celebrating diverse cultures across the globe. Mark your date- Sep 24th – for an evening full of musical and dance performances along with Indian food.
For this year, confirmed performances include Pidc Purdue (Bollywood dance), Tatvam (Fusion band), Purdue Taal (Indo-American a cappella ), Latin dance by PUCSSA, AurdhoChandro (Band), Afroroyale (Dance), IWA kids, Boiler Bhangra and many individual performances!
If you want to participate, please feel free to contact us at Asha Purdue facebook page or at purdue@ashanet.org. Slots are still open for individual or group performances which could be dance, song, musical instruments, mimicry, stand up comedy, beat boxing etc to name a few. New students are encouraged to be part of Tarang 2016 and you will get to perform at grand stage of Loeb Playhouse! We are also looking for emcees for the show. In addition to that, you can participate as volunteer for the event.
Please contact Lakshmi Nanduri , Neena Majumdar, Rohil Jain Vidhi Shingla for further info. Please feel free to contact us at Asha Purdue facebook page or at purdue@ashanet.org
Event FB page: https://www.facebook.com/events/1050533458371356/
Asha Purdue FB page: https://www.facebook.com/ashapurdue/